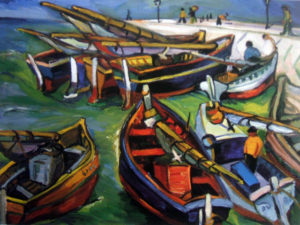 I once had the opportunity to visit Sevierville, Tennessee with a few friends of mine.  While on my trip to the southern part of our country, we had the opportunity to go whitewater rafting across the waters of Lake Pigeon.  A native New Yorker through and through, my first feelings about this idea were feelings of reservation.  Subways,  sidewalks, and skyscrapers had all but soured me to the idea of spending any significant amount of time in the outdoors. Truthfully, outside of scenery that makes for great wallpapers on my cell phone, I struggle to see whats so "great" about the outdoors.  But, in my attempts to not be a complete antediluvian, I agreed to participate.
My friends and I arrived at the location where we were to receive our equipment.  We suited up and  shortly thereafter made our way to the raft designated for our party.  When we got to the boat, we had a lady assigned to help us named Jane.  She told us that before we got started down river she had instructions for us.
Jane told us that before we went anywhere, that in order to make it up the river, we had to be able to hear & understand her commands.  She told us that we needed to be familiar with her voice.  She went on to tell us that their would be times when the movements of the river would become so loud that it would be difficult to hear anything, but if we just listened for her voice, we would be able to hear what we needed to do in order to make it through the turbulence.  It wasn't enough for us to know the words she was using. We had to understand what her words meant for us to do.  Certain commands were intended to elicit specific responses; We had to allow the words Jane spoke to us to influence what we did and how we acted.
After spending some time with her (becoming familiar with her, her voice, and how she spoke), we made our way to the river. One by one, we climbed into the raft. Even though we were all different shapes and sizes…even though we all had different levels of strength…even though some of us were more familiar with how to act in the raft than others, … there was room in the church raft for us all.
Jane sat at the back of the raft.  As we took to the water & began to float upstream, she wasn't in my direct line of sight. So even though I knew she was real, even though I had become familiar with her voice, and even though I knew that she was there, I still found myself turning my neck to look back at her and make sure she was still there with us.
For all of the conversations about her voice and her instructions, she was so quiet; hardly offering anything outside of pleasantries and an occasional smile when she saw someone else was looking back at her. This would change once our raft began to approach the first current.
As we approached, the waves began to crash loudly against the side of our raft.  The speed of the currents picked up, and the waters being to propel us precipitately downstream.  Things began to move so much faster than what they had just a moment ago.  Despite what Jane had taught us, I found myself so caught up in everything happening around me that I felt as if I had to do something.  I became so preoccupied that didn't remember what she had taught us earlier; I forgot to listen for her voice.  I stopped focusing on the what was going on around me and instead just concentrate on hearing Jane's voice to tell me what to do.  When I did this, I realized that Jane was actually speaking to me the entire time. I heard her voice and was reminded of what she told me to do when dealing with the movements of the river.  I did what she said, eventually making it through the tides and into peaceful waters once again.
That day, I learned a lot from Jane who sat at the back of the boat.  Not only about whitewater rafting, but also about our God, the constance of His presence and the way He communicates with us.  Even when outside forces occupy our attention, our God is true to His omnipresence and always with us.  When we find ourselves floating along on the rivers of life, adrift and attempting to navigate the turbulent currents of circumstance, we must learn to slow ourselves down and simply listen for the voice of our God.  Just as Jane did to me, The Lord often speaks to us; directing, guiding, and encouraging us in times of stress and storm.  All we have to do is be alert and attentive to His voice.  In the midst of our rampancy, perhaps God has been saying what we need to hear to all along.  Maybe we just haven't been listening for His voice.
Now, if He could just say all of that to me in a way that doesn't involve outdoor activity….
Please follow and like us: